ABEL Building Systems provides top-level fire alarm systems, security systems, camera CCTV systems, card reader access control systems, and central station / remote monitoring.
Since 2000, we've designed, integrated, and provided central station monitoring, service and inspections for commercial and property management clients including high-rises, educational institutions, hospitals, churches, and retail stores, correctional facilities and more.
We are committed to providing new technology with old fashioned values.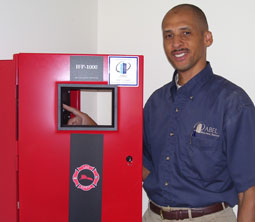 Cincinnati Public School System Learns Fire-Protection Lesson From Silent Knight
In Cincinnati, when you say "school's out," it has a whole different meaning. That's because all 65 schools in the Cincinnati Public School District – encompassing preschool through grade 12 – are part of a massive, $1-billion Facilities Master Plan that will completely change the face of the city's educational infrastructure. The plan, initiated back in 2002, calls for many of the buildings to be extensively renovated – all the way down to the plumbing and electrical work – along with a number of new schools that will be constructed from the ground up. (Similar efforts are being enacted in all of Ohio's 613 school districts.)…